Expertise
IMD provides strategic advice and operational services. We have expertise in the following areas: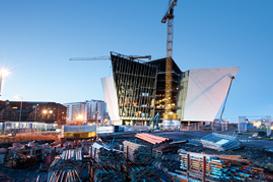 Feasibility Studies
We will produce a business model to include identification of all revenue streams and income, fixed and variable costs and anticipated return.
We will identify market trends globally and locally. A staffing structure and preopening budget will be produced
Business and Financial Planning
Strategic thinking combined with industry knowledge enables us to advise on creating realistic and in depth business plans. Our financial planning takes into account all areas of revenue creation, cost forecasting, programming and cash flow forecasts.
Venue Design, Development and Preopening Services
We know what works and what doesn't work, we know how to design a venue in order to maximize revenues and minimize operating costs. A well designed venue also caters for the needs of shows/teams/productions and the ever more discerning public. We are experienced at working with architects and project managers to achieve the best result.
Preopening services include establishing all policies, procedures, and contractual relationships, Identifying revenue streams, programming and negotiating with third parties.
Venue Management
We provide advice and assistance to both new venues or existing venues that need help identifying new opportunities, reviewing processes, systems and controls, maximizing revenue opportunities and minimizing costs without compromising customer service.
Organisational Development
Whether a client needs advice re improving the strategy, structure, management and operations of their company or requires recommendations for the best team structure for a new venue, we provide objective advice and expertise. Our aim is to improve the performance culture within the organisation thus maximizing growth and improving business performance.
Grants and Funding for Events
The key to successful applications is a working understanding of all areas: realistic forecasting of revenues and costs; appropriate sponsor packages and marketing plans; managing risk and experience in working with government departments and funding bodies. We have been successful in applying for and receiving funding for major events.
Event Promotion and Management
Our extensive experience in event promotion and management includes:
Realistic budgeting and revenue projecting.
Ticketing and pricing strategy
Marketing plans,
Sponsorship negotiation
Food and beverage
Merchandise
Broadcasting rights
Production
Risk
Health and safety
Operator Selection
Choosing an Operator is an important decision, we will advise on the following:
Tender process and documents.
Assessing bids.
Interviewing
Heads of terms
We can be involved as much or little as required and will tailor our activity to meet your objectives.
Tendering Processes
We can oversee/advise on the tendering process and contract negotiation for the following:
Operator selection
Ticketing
Food and beverage
Operational contracts
Merchandise concessionaire